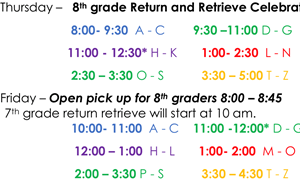 The end of the year is here. We have lots going on this week with classes wrapping up and preparing for our virtual commencement. There are a couple of important days and times to prepare for. The Roadrunner Return/Retrieve for 8th graders will take place on Thursday, June 11th. The suggested schedule is listed in Peach Jar and was sent out via Parent Square. During this drive through event, we will have ONE lane into the lot and two lanes out. You will only be able to make right turns into and out of the lot. 7th graders will have their day on Friday, June 12th. On Friday, our commencement video will go live at 9 am. The link will be on our Bell website. It will be available all day. We wish all of our 8th graders continued success as they transition to High School.
Principal's Message
Welcome to Bell Intermediate School. 
I am thrilled to be starting my third year as principal of this award winning school.  I am proud of the many positive opportunities students are provided during their time at Bell. With a focus on the GGUSD vision and mission statements, Bell teachers and staff strive to create a safe and positive campus and classroom environment that encourages all students to be "successful and responsible citizens who contribute and thrive in a diverse society."
Intermediate School is a short, but pivotal time in each young person's life.  The positive learning environment combined with the scholarly habits that are practiced each day at Bell Intermediate School will help students understand that reaching their goals is possible.  The skills learned today will provide the foundation for all students to be successful in high school and through their post-secondary goals.
In addition to the great academic opportunities on campus, I encourage both you and your child to take advantage of the many extra-curricular activities provided to Bell students and families.  Research shows that students who are involved in clubs and school activities experience greater success with both academic and personal skills.
It is important that you create and routinely monitor an Aeries Parent Portal and review your student's attendance and academic progress.  This is an integral communication tool between school, student, and family.
We also offer a variety of parent education nights that address the current issues in our society and we have many opportunities to be involved in supporting our students in their school events.
I look forward to meeting each of you and supporting you and your child through these formative years.
Sincerely
M'Liss Patterson, Principal
Our School
About Bell Intermediate:
In 2019 Bell was recognized as an AVID School-Wide Site of Distinction - this is the highest rating that a school can achieve within the AVID certification continuum. Instruction at AVID schools is driven by WICOR: Writing, Inquiry, Collaboration, Organization, and Reading across content areas for all students!
Bell was awarded the 2018 National School's to Watch award – the state's top honor for high-performing middle schools.
In 2017 Bell was named a California Gold Ribbon School for high achievement and model practices.
Bell has a long standing record of academic excellence with students outperforming both the county and the state in rigorous state testing.
Bell offers exceptional elective programs including music, drama, dance, photography, ASB, STEM and more.
Bell provides academic and fun extracurricular programs including academic pentathlon, intramural sports, science fair, robotics, and coding and more.
Bell has a 1:1 computer to student device ratio.
Bell's teachers use 21st century technology to enhance learning. We also offer STEM elective classes!
Bell promotes a culture of college and career readiness and equips students with the tools for success in high school and beyond.
Bell continues to provide a dynamic AVID college-readiness program.
Bell has an Advanced Learner Program (ALP), Honors English Language Arts, and Advanced Math classes.
Bell provides meaningful intermediate school experiences including trips to Catalina, Washington D.C., and San Diego.
This year we are implementing Positive Behavior Intervention & Supports PBIS.
Bell hosts a variety of student clubs on campus to ensure student connectedness: Science Explorers Club, Animal Amigos, Arts & Crafts, Fellowship, Gay, Straight Alliance GSA, Dance, California Junior Scholastic Federation CJSF, Bell Buddies, Music, and Club D.C.
Bell offers after school tutoring to support students in reaching their academic goals when in person classes are in effect.
Bell's families are actively engaged and support a wonderful school community.