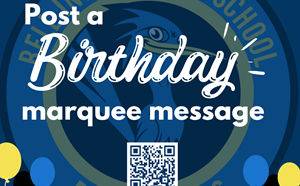 Bell is excited to be able to offer Marquee Messages to help you celebrate special moments. Messages are limited to 30 characters. $10 for 2- 3 school days. $20 for a week including the weekend. Make payment to Bell Intermediate (Cash or Check). Submit payment to the Bell Office. Payment is required before the message will be displayed. Click the link to fill out the form. https://forms.gle/AwveqCYaHtU5ESFP7
Principal's Message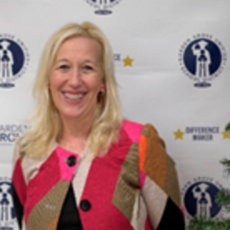 Welcome, Roadrunner Community, to the 2023-24 School Year!
I hope you are looking forward to the new 2023-2024 school year and the new and improved campus with our new infrastructure upgrades like I am. Check out these photos of the extensive work. 
(The plan is to move into the new and improved Bell campus on August 10th.) 
I am excited about ALL this school year has to offer and will continue to work collectively with our community to ensure that our Roadrunners have the best educational experience possible to be critical thinkers, responsible citizens, and prepared to make their dreams happen. Our staff has built a solid foundation, and each year adds layers of quality to our school. Our staff will focus on continue to build our positive school climate and atmosphere to ensure that all students, every day, have a positive learning experience.
Our expectations for our Roadrunners are:
B

eing Kind and Respectful

E

nsuring Saftey

L

earning Actively

L

eading Responsibly
This acronym promotes the characteristics we want our Roadrunners to embody and learn. We like to say: Do it the Roadrunner Way! By having these learning outcomes, our Roadrunners will develop the academic skills necessary for continued individual growth toward mastery of standards. In addition, they will develop the personal skills necessary to achieve their educational and social goals so they are prepared for lifelong success in their intended career paths. 
As your principal, I am excited to start my fourth year at Bell, my eleventh year on the West Side, and my thirty-first year in education! 
It is a good day to be a Roadrunner!
Stephanie Bartlett, Principal
---------------------------------------------
Our First Day for students is Monday, August 14th 
Supply Suggestions:
Teachers request

single-subject spiral notebooks

& lots of

glue sticks.

 

Blue/ black pens & pencils

(they seem to go through them quickly).

Highlighters & colored pens

for note taking
Drop off & Pick-up procedures to be aware of:
You can use our school NORTH parking lot for student drop off and pick up. For student safety, please do not use our bus lane in the school's front parking lot or use the red curbs on Springdale. We have a crossing guard directly in front of the school for walkers. (Please DO NOT use the Enders parking lot as a drop-off location.)

Our bike rack area is located inside our campus by our Portables for students to store their bicycles, skateboards, or scooters during school hours. Students are strongly recommended to bring a lock from home to secure their bicycles, skateboards, or scooters. (Helmets are required by law.)

Bus transportation is only provided to students who live in Quarter Section 2 or Quarter Section 10. (More information on our website at

Transportation

.)
School Hours:
School starts at 8:12 am, and students are released at 2:02 pm; students may arrive on campus at 7:52 am to eat breakfast. Most Wednesdays are an Early Release Day, and school is out at 1:14 pm. on those days. (More information, along with Holidays & Breaks, on our website at

Important Dates_23-24 Calendar

.)
A warm welcome to NEW staff members joining the Roadrunner team!
Kevin Griffin - English/7I
Andrea Thompson - Secretary
Annette Martinez - Attendance
Here are a few important dates for the school year (Check updates at https://bell.ggusd.us/.):
First Day: August 14th

Roadrunner Roundup (school purchases): August 16th (2:30 to 5 pm)

Picture Day: August 24th

Back to School Night: August 31st

Picture Retakes: September 27th

Quarter 1 Benchmarks: October 12 & 13th

Quarter 2 Benchmarks: December 21st & 22nd (Minimum Day - Release time 12:17 pm)

8th Grade Visit to High Schools: February 15th

Quarter 3 Benchmarks: March 14 & 15th

Open House: April 18th

8th Grade Dance: May 16th

Quarter 4 Benchmarks: May 21st & 22nd

8th Grade Awards @ 2pm on May 28th (by invite)

Commencement @ 9 am on May 29th

Minimum Days_ Release time of 12:17 on May 28 & 29th (Last Day of School on May 29th)
We need your help, too! We are looking for parents/guardians who want to be involved at Bell:
Parent Teacher Association (PTA) **More information to come out via Parent Square after school starts.

English Learner Advisory Committee (ELAC)  School Site Council (SSC): Nomination forms for our School Site Council will be posted in a future Roadrunner Newsletter.

Volunteering at Drop off, lunch, or Pick-up: All volunteers must fill out an application form and provide proof of TB shot.  Please contact our office if you would like more information about any of these.
Our School
At Bell, we do things 'The Roadrunner Way!' which is a shinning example of the Garden Grove Way! The secret to the success of Bell is that we treat all of our students as if they are our own children, always putting their needs first following the three GGUSD goals which is based on an equation: Academic Skills + Personal Skills = Lifelong Success.
In 2022 U.S. News & World Report ranked Bell Intermediate among the best in California. California has the most ranked middle schools,, with 2,319 nationally, and Bell is close to the top at no. 171. U.S. News used the U.S. Department of Education data to determine the rankings by analyzing math and reading proficiency.
Bell Intermediate has been recognized as a 2021 California Distinguished School. Bell Intermediate school was among only 11 schools in Orange County and just over 100 across the state to receive the prestigious recognition. Schools are awarded for achieving exceptional student performance or closing the achievement gap.
In April 2021, State Superintendent of Public Instruction Tony Thurmond announced that Bell Intermediate is one of 31 high-performing California middle schools that the California Schools have recognized to Watch program. Bell Intermediate completed the rigorous application process during the COVID-19 school closure period to have been re-designated as 2021 "California & National Schools to Watch." Bell was awarded this honor first in 2018 as the state's top honor for high-performing middle schools.
In 2019 Bell was recognized as an AVID School-Wide Site of Distinction - this is the highest rating that a school can achieve within the AVID certification continuum. WICOR drives instruction at AVID schools: Writing, Inquiry, Collaboration, Organization, and Reading across content areas for all students!
In 2017 Bell was named a California Gold Ribbon School for high achievement and model practices.
As you can see, Bell has a long standing record of academic excellence with students outperforming both the county and the state in rigorous state testing.
Bell has an Advanced Learner Program (ALP), Honors English Language Arts, and Advanced Math, classes.
Moreover, Bell offers exceptional elective programs, including music, drama, dance, photography, Art, ASB, STEM, AVID, and so much more as a 21st-century that promotes a culture of college and career readiness that equips students with the tools for success in high school and beyond.
Bell also implements Positive Behavior Intervention & Supports (PBIS) structures to benefit the climate and culture on campus.
There are a variety of student clubs on campus to ensure student connectedness: Science Explorers Club, Animal Amigos, Arts & Crafts, Fellowship, GSA - Genders & Sexualityies Alliance, Dance, California Junior Scholastic Federation CJSF, Bell Buddies, Music, and Club D.C.
Lastly, Bell offers Extended Learning Opportunities to support students in reaching their academic goals.
Bell is a high functioning school within GGUSD and Bell's families are actively engaged to support our school community which contributes to our successes! Bell is a community school with generation after generation specifically choosing to send their children to Bell!