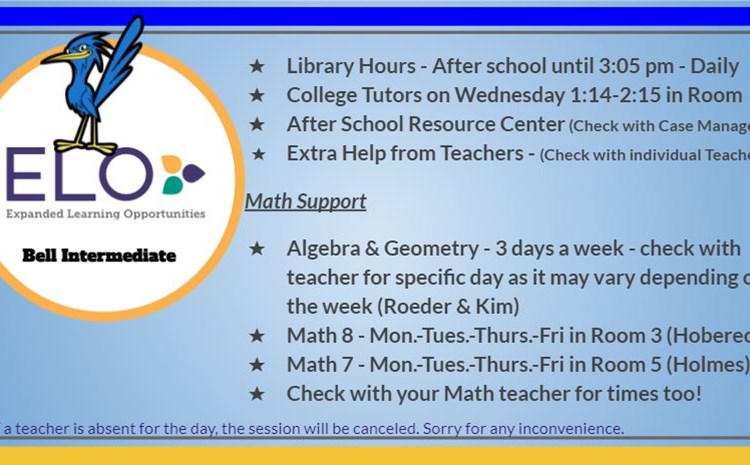 Extended Learning Opportunities
Sunday, November 14, 2021
Check out the after-school opportunities for Roadrunners to get support!
Bell Intermediate 
ELOs-Expanded Learning Opportunities 
★ Library Hours - After school until 3:05 pm - Daily
★ College Tutors on Wednesday 1:14-2:15 pm in Room 3
★ After School Resource Center (Check with Case Manager)
★ Extra Help from Teachers - (Check with individual Teachers) 
Math Support 
★ Algebra & Geometry - 3 days a week - check with the teacher for the specific day as it may vary depending on the week (Roeder & Kim) 
★ Math 8 - Mon.-Tues.-Thurs.-Fri in Room 3 (Hoberecht)
★ Math 7 - Mon.-Tues.-Thurs.-Fri in Room 5 (Holmes)
★ Check with your Math teacher for times too! 
*If a teacher is absent for the day, the session will be canceled. Sorry for any inconvenience.