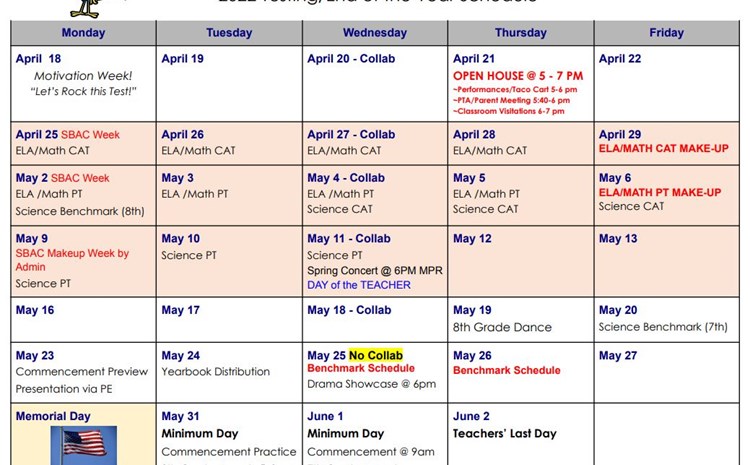 2022 End of the Year / Testing Schedule
CAASPP (AKA:SBAC) is a mandated state assessment system intended to provide information that can be used to monitor student progress and ensure that all students leave high school college and career ready. Students will participate in computer adaptive tests and complete a performance task in English Language Arts and mathematics, for grades 3-8 and 11 as well as science in grades 5, 8, 11 and 12 as part of CAASPP. 
All schools are required to meet participation rates of at least 95% of students or greater for the English Languages Arts, mathematics and science portions of the Smarter Balanced Summative Assessments (SBA) that are administered as part of CAASPP.
 
Under California Education Code section 60615 parents may submit a written request to exempt their child from testing.  Parents may obtain a testing exception form from their child's school.  Please note that students who do not participate in state testing will not receive state reports of their annual progress and may affect the school's accountability scores.

Please CLICK HERE regarding End of the Year/Testing Schedule.